We are happy to assist you on your way to EEBUS – no matter at which point. You can rely on our support from the very first steps of implementation up to testing and completion. We will also be happy to advise you on developing suitable business models for your new EEBUS products and applications.
Integration Konect + Solution Sets
Do you want to customize our EEBUS SW Stacks to your own business logic or for a specific programming language? With decades of experience in device development, our specialists are familiar with a wide range of RTOS operating systems for resource-saving microcontroller families. Contact us to adapt our EEBUS stack to your individual requirements and interfaces.
Interface to your Customer Logic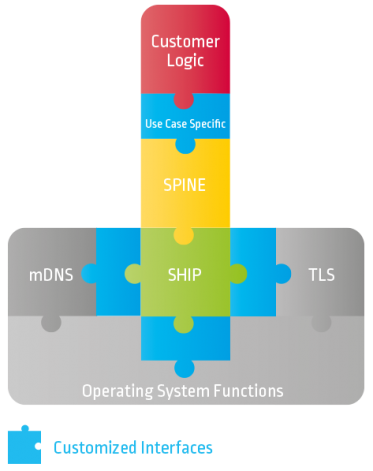 We are part of large national and international research consortia, where we develop essential solutions of tomorrow. If you are interested in becoming an associated partner, we are pleased to support you in this, and integrate your concerns and requirements into the research discourse in the best possible way.
These are some of the projects we currently contribute to: